Meet with Vici at AAPS 2023 PharmSci 360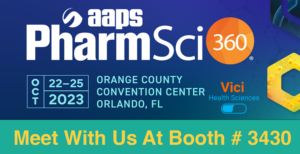 Are you looking for a high quality, US-based, full service R&D focused CDMO to accelerate your drug development program? Meet with our CEO, Dr Anish Dhanarajan and Senior Director of R&D, Dr Suneel Rastogi at AAPS next week to discuss your needs.
Vici offers cGMP API synthesis for nonclinical and phase 1 clinical studies, formulation development services for a variety of dosage forms, analytical method development and stability testing services, cGMP phase 1, phase 2, and phase 3 clinical supplies manufacturing for non-sterile product, and regulatory filing support for pre-IND and IND applications. In addition, we also offer drug development consulting services that many of our clients find very useful.
Being US-based our services are well suited for companies looking for intellectual (IP) protection and great customer service. We are very cost competitive in the US market.
Looking forward to meeting with you.
AAPS 2023 PharmSci 360
October 22-25, 2023
Orlando, FL
Booth #3430